I have waited a couple of months to give a review about this new hybrid lipstick from By Terry because I wanted to validate if after a while I still love it like the first time I tried on. I actually love it more!
This is described like a "Bold Color Impact Contouring Control. It comes in 25 shades. The counter presentation is divided by shades of nudes, reds, plums, wine, pink, berry and orange shades. The reason I went ahead and bought the first lipstick is because it is described as one with high pigmentation and easy application on the go. The other reason is because it is described as a conditioning balm. Surprisingly it actually feels better than a balm. This is the second lip product of by Terry that I really love. I actually feel that I am not wearing any lipstick at all and even though has a matte –velvet finish, does not dry my lips at the end of the day. The application is very smooth and soft like a mousse to the tact. The result is not a chalk type of matte but one with light reflection that enhances the curves of the lips and it is long lasting (around 4-6 hours).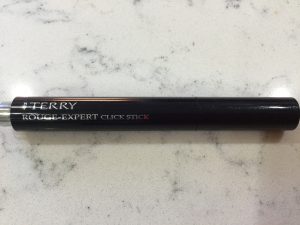 The presentation of the lipstick is a long slim tube in dark blue with silver letters with a button in one of the ends and the dispensing tip at the other end.   It is designed to help you with precision to actually minimize the use of lip pencil. This is because of its ergonomic tip that resembles a pear cut diamond, which helps to contour the lips and / or fill the lips at the same time. For some of us with little girls, it is actually practical that the little ones can't hardly figure out how it works minimizing the risk that the bar will be broken.
Press the button at the end of the tube and it releases the right amount for a single application. I actually prefer this concept to the liquid pencil. It is quick, compact and less messy. It has a very slim presentation easy to carry even in the smallest clutch. Perfect for travels.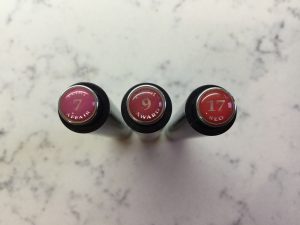 Initially I picked #9 "Flesh Award". In my complexion looks a rose-berry shade but in fair complexions I think it will look more berry than rose.  It was the perfect transition color between summer and fall.  I went back to the store and picked #17 "My Red" which is a neutral red to me. Not warm or cool. Last week I return again with a friend a got lucky number 7 "Flirt Affair".  This is bright pink in my complexion. It retails at $32 but recently I found some colors on sale in "Dermstore". I was able to find and test the product in Blue Mercury in Southlake Texas. They do not have the whole like but lucky enough they have this lipstick on display.  I noted that Nordstrom   also carries the line now among the top department stores.