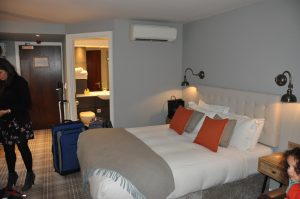 This last Christmas we decided to spend it in the UK with my husband family; being a person who does not like to impose too much, we elected to stay in an accommodation close by rather than on floors and blow up beds. With the full benefit of hindsight, it was the best decision we ever made after all these years traveling to the UK. As the parents of two children and after a little research we chose The Princess Royal in Farnham where families are welcome.
The website presents a stylish intimate environment and superb reviews about the dining experiences; everything we needed in just one place, close to my brother in law's house but not walking distance!
Our Christmas had to have a little bit of what we have at home; being woken by impatient children, watching their delight and the anticipation rise as they get their first glimpse of their Christmas gifts. That look of curiosity mixed with happiness is common expression of children but somehow absent into so many adults. However, we also wanted to spend Christmas wit the UK side of the family, with children, food, drinks, in laws and introductions to new members of the family. All seemed to be well set for a great break.
We arrived in the late evening on December 23rd. Check in was very smooth and proffered with a pleasant "good night"; no waiting or cold faces as happen in the hotel chains and big resorts.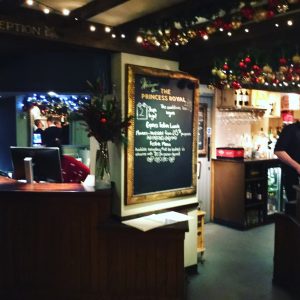 Once we had moved in to our room situated in an annex to the main building we rushed to have something to eat at the Pub. As soon as I put foot in the place the Christmas decorations immediately caught my attention; everything was harmoniously positioned. It was all such a bonus addition to the warm and welcoming atmosphere of the traditional English Pub. The network of rooms bustled with a mixture of people from all backgrounds and ages, having a bite to eat, enjoying a pint or a glass or two of wine. Without effort the atmosphere beckoned us in as if we were invited and they were expecting us to this big party. One group of lads was having a "guys night" out sporting ugly Christmas sweaters. I had always held the view that this was a U.S. activity but I guess I was mistaken, personally I prefer toga nights at least there is something left up to imagination.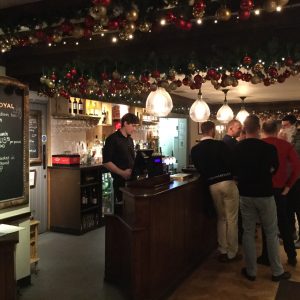 We had booked a room with one queen and one sofa bed. The annex of rooms were a new construction and ours was spotlessly clean; the beds were so comfortable that the back pain I had been experiencing the previous weeks disappeared on the first night.  Walls were painted in trendy gray and the bathroom, although small, had everything you could need and more. The rate we chose included breakfast and it was superb. Sausage is common during breakfast in the UK and I was so surprised to see all the different and creative ways to cook eggs although I am more of a toast and omelet kind of person. The only thing missing was espresso but I'll take a good strong coffee than bad weak espresso any time.
The staff at the Princess Royal were more than accommodating and were prepared to make something else, even if simple, that it was not in the menu. I truly loved their pleasant attentive service, attention to detail and laid back demeanor; in short the customer service was charming.  It was comforting to not feel rushed like some places in the US. It just the right pace.
They also have an outside patio area where you can enjoy some dining experience; though, perhaps not to be recommended over the winter.
On Christmas day breakfast was not served in the pub, but even better, through prior orders the night before, we received breakfast in bed; now that is what I call service!
After a pleasant breakfast in the Pub we left on December 26th after the family's Christmas activities. I strongly recommended the place to our friends and family in Farnham for any special dinner, birthday celebration or any social activity and if you are in the area, do not think twice and stop here either for a nice meal, drinks or stay here.
The Princess Royal is located in Guidford R. Runfold, Farnham, Surrey UK. Their telephone number in the UK is : (011) 01252 782243. You can also contact their website at http://www.theprincessroyal.co.uk/
DRV